Duidelijke afspraken   

  Sinds 1979 dé muziekexpert   

  Alles onder één dak   

  Eigen service en ontwikkeling

  Duidelijke afspraken


  Sinds 1979 dé muziekexpert


  Alles onder één dak


  Eigen service en ontwikkeling
Afspelen eigen MP3's
Speel snel in op situaties door deze functie
Voorluister functie
Makkelijk een nummer vooraf luisteren om toe te voegen aan je speellijst
Zoekfunctie
Slimme zoekfunctie voor samenstellen van eigen afspeellijsten en verzoekjes
Knop-blokkering functie
Beveilig je eigen gemaakte afspeellijsten met deze functie
Radio functie
Zet tijdens de schoonmaak lekker je radiozender naar keuze op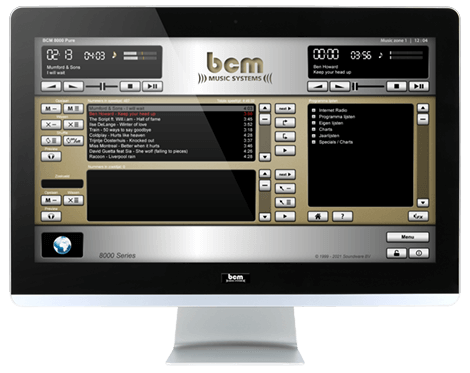 Heb je nog vragen, mis je informatie of heb je aanvullingen? Neem dan gerust contact met ons op. Via het contactformulier of telefonisch helpen we je graag verder. Zo zorgen we samen dat jij de muziekcomputer kiest die het beste bij jou en je bedrijf past. Toch liever een oplossing waarbij je zelf alles online regelt? Kijk dan eens op bcmstream.com voor de juiste muzikale oplossing.
Maak hier je afspraak met de BCM adviseur
Laat je meenemen in de muzikale wereld van BCM Music Systems en maak een afspraak met onze adviseur.